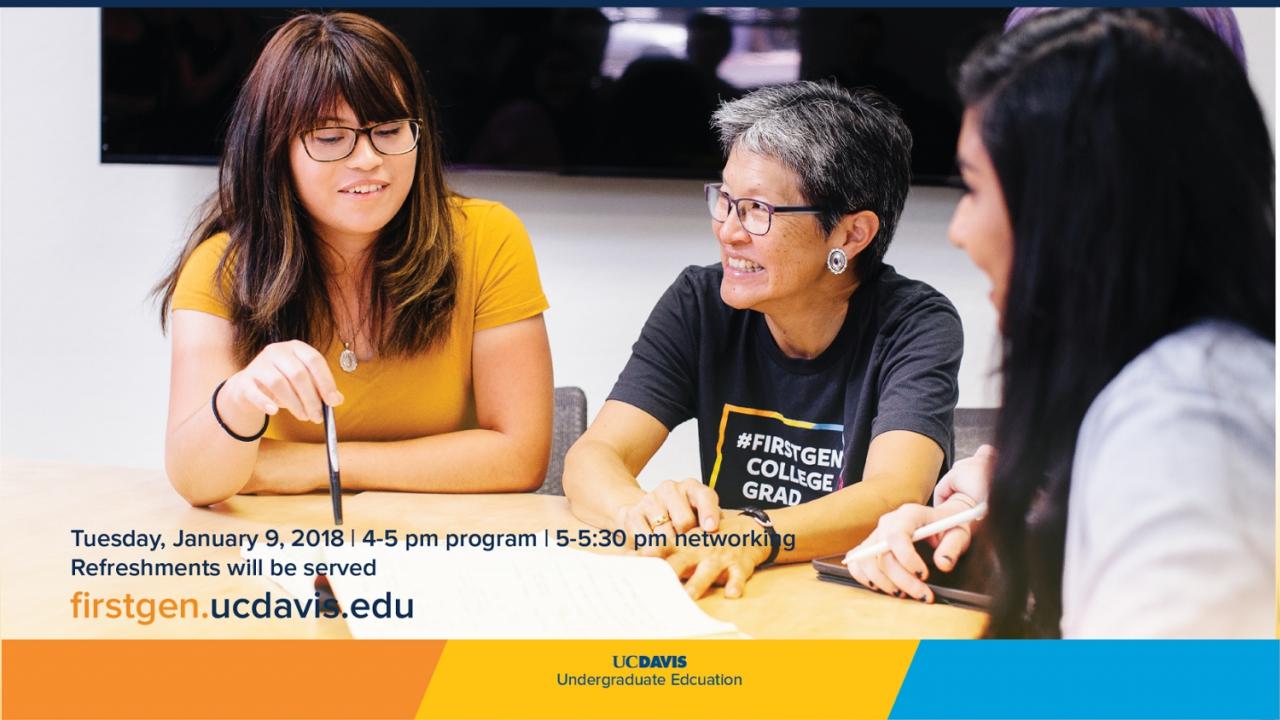 Location
Student Community Center
In Spring 2017 we invited faculty to participate in a new initiative to connect with our growing population of first generation students. In response, they enthusiastically shared stories and expressed support for our students. We launched a website with those stories, resources, and a directory where students could search for first-gen faculty to connect with. 
Our FirstGen Faculty community is now 400 strong. In January, some forty of us gathered for our winter forum to learn, network, and hear from our students and their mentors about how the FirstGen Faculty initiative is beginning to flourish.
 
FirstGen's First Fruits
We built the FirstGen faculty directory to help students connect students with potential mentors. We heard from students Jennifer Aguiar (Psychology) and Mirabel Anguiano (NPB) about how the initiative helped them approach faculty, and from professors Simona Ghetti and Diasynou Fioravante about their experiences. 
Connecting in the Classroom: Data and Resources
Marco Molinaro, Associate Vice Provost and Director of the Center for Educational Effectiveness, presented data on UC Davis first generation student enrollments, retention, GPA and intersectionality effects, and graduation outcomes, and shared CEE resources. For more information or to connect with CEE, contact cee@ucdavis.edu .
Download the Presentation pdf.
Watch the narrated presentation:
Program
4:00-4:10 - Gathering and Refreshments
4:10-4:25 - Data Presentation: Who are our first-generation students, and what are the challenges they face? - Marco Molinaro, Associate Vice Provost for Educational Effectiveness
4:25-4:35 - Discussion: What strengths do first-generation college students bring to the classroom?
4:35-4:50 - Success Stories: FirstGen student-faculty connections

Diasynou Fioravante (NPB; Center for Neuroscience) & Maribel Anguiano (NPB)
Simona Ghetti (Psychology; Center for Mind and Brain) and Jennifer Aguiar (Psychology)

4:50-5:00 - Discussion: How do you connect or plan to connect with your first-generation students? 
5:00-5:30 - Networking and conversation
Tags