Beating the Odds
Alfredo Trinidad Lira III '23
Political Science - Public Service
In @ucdavisfirstgen's Instagram
"First Gen Voices" Series (Ep. 5)
we feature Alfredo Trinidad Lira III. He is a #firstgen student in his third year, majoring in Political Science. Tune in as he shares how his family/community has inspired his educational journey, how he challenges the image of being "just a statistic in this system" and as he gives advice on how he succeeds despite the #firstgenstruggles.
My Roots
Growing up in Oakland, I experienced the effects of racially motivated redlining policies firsthand. My background forced me to ask many grim questions growing up, why is my mom being treated differently? Why am I taking an English language proficiency test in 3rd grade? Why don't most of my friends have fathers? Why is our infrastructure crumbling, and why do I hear nothing but gunshots and police sirens? These experiences from my background push me to pursue my education. My high school graduation rate was 48 percent when I graduated. I was afraid of being misunderstood, criminalized, or falling behind as a Latino male, but I am not just a statistic.
My mom used to tell me there is respect in all work, no matter how menial some might view it because it's work. Even if I became a "barrendero" (Spanish for street sweeper), I should make sure I was the best in my career, respecting my work ethic and values. My dad always told me, "I'd rather have you work with your head than with your back, cause your back won't last forever" They always said to me that we were in Estados Unidos (Spanish for the United States) where I can make anything happen if I work for it. My notable influences to attend college have been my parents, sisters, and participating in a social-political activist nonprofit organization called Youth Together. This organization is where my passion for social justice came about.
I was in community college for about 5 and a half years. I took some time off as the pandemic started. UC Davis became a farfetched dream when I had to worry about my next meal and rent. When I started working again, I went back to school, applied to UC Davis, and got accepted. I felt revitalized. My dad didn't finish high school, and my mom didn't finish college in México. When I got accepted to UC Davis, my father cried with pride, joy, and happiness, telling me something I won't forget. He told me that they didn't have anyone when he and my mother came to this country. Or anything. But I have them; my parents.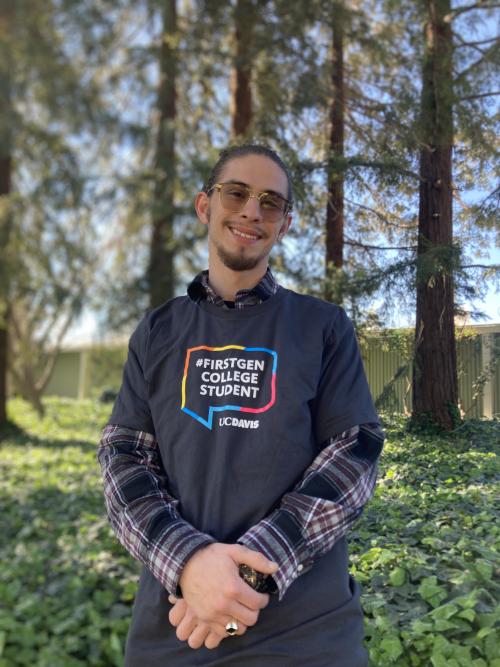 Davis
The Reason I came to UC Davis is that it's always been my dream. I visited the campus on a field trip in high school, fell in love with it, and thought it was meant to be. When I heard of our law school Kings Hall and the Chicano studies department, and a wide variety of courses, it was more of a reason I wanted to come here. The best thing about my college experience is just my college experience in itself. I take everything in, and I do not take it for granted. So many people come to this country for an education. So many people in my hood dream of going to college. I'm alive in college, healthy of mind and body, and free. It is the simplest yet best experience that not everyone has. When the pandemic started, I was almost going to give up on school and start working at the ports like my father. Not everyone has this privilege of education, so every second is the best thing about college for me. The chance to make a change in this world and maybe a better future for my family.
Looking Forward
I heard in a rap song once, "Hell is not a place you after you die, it's the failure of your life's greatest ambition," and that is burned into my soul. Having faced incarceration before due to houselessness, my fear is that I'll fail. That I'll prove the world right that I'm just a statistic, another Latino male lost in the system. My dream has always been to go into law and practice immigration policy. I picked my major, realizing it would open many doors of knowledge to understand how to fulfill and further my goals. I wish to enroll at Kings Hall UC Davis School of Law, where hopefully I can learn to practice immigration policy. I want to bring policy change and reform to our immigration policies to help my community. My fellow first-gen students' advice is that you're not alone, don't be afraid to be yourself. Don't be afraid to be different. In fact, embrace that because that's what makes this place and this country beautiful. That it's filled with so many other stories and backgrounds, you're not alone. And It is OK to fall down! Our families didn't get here easy peasy! Things get hard sometimes, and that's OK! Reach out and ask questions; utilize your resources.
Primary Category
Tags