Being an Educated Chicana | Part 2
Johni Rose Zamorano '22
English
Applying to Graduate School
I knew nothing, but I decided to apply to graduate school anyway. I was waitlisted by Notre Dame and NYU and denied by the rest. Thank you, Professor Vernon, Professor Stark, and Melissa Gomes, who helped me without hesitation and with supreme patience. After graduation, I plan to begin job hunting, write my next nonfiction manuscript, and learn a new language. I will be reapplying for an MFA in Creative Nonfiction. I will broaden my options by applying to PsyD, MSW, and English Ph.D. programs. I advise finding a mentor and friends who can help guide you, get to know your professors, apply for an internship, and begin researching schools and preparing 6 months to a year in advance. Visit the ICC and talk to Spencer, who helped me with my resume and CV. Remember that it is ok to fail. I didn't even know when grad school applications were due or where I would apply. I only knew I wanted to get to the next level and needed help. Often it takes a village to succeed and more than one attempt to get accepted into graduate school. Although it didn't work out the way I wanted it to, I believe our lives transpire the way they do for a reason, so my advice is to practice grit. Be relentless in the pursuit of your goals. 
Becoming Acclimated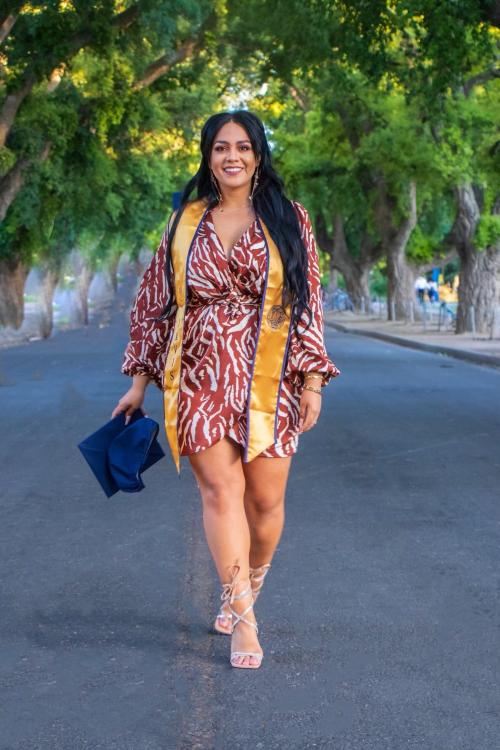 It took some time to adjust to the social order of UC Davis. Creating a routine and wisely choosing where to expend my energy. I had the honor of being the writer for the first-gen initiative. Our team offered inclusivity and a platform that resonates with 42% of our school's population. I pledged to a Chicana/Latina-based sorority Sigma Pi Alpha focused on academic success and community service. I found a sobriety-based community. If it weren't for sobriety and a community of people who understand my experience, I would not have had the opportunity to have a successful college career. I experienced a whirlwind college romance in its purest, most respectable form. I utilized our onsite counseling services to sort through old traumas and manage the fast-paced changes. I am grateful to have this platform to bring awareness to the things not often discussed in our academic world. I made my one year at Davis feel like the two years that I deserved. I used every experience as an instrument for personal growth. I kept putting myself out there out of desperation to find my footing. Every growing pain has shaped my newfound sense of resilience; I have blossomed from the ashes. I embody the power of adaptation. I am growing into my most authentic self, and UC Davis played a part in that.
Goodbye Davis
Spring Quarter was my most challenging academic experience to date. I took on 16 units and my internship while maintaining a social life. Being stretched thin while simultaneously receiving support has reshaped my mind to where it's meant to be. I am still not where I want to be, but when I retroactively think of the incremental steps that brought me to this day, I am proud of myself. Although it was later in life, I got everything I wanted out of college. We often remember the hard times on a surface level forgetting the discomfort and glamourizing our success results. I am here to tell you that I see you, I hear you, and I am you and to not give up because if someone had told me I would have a second chance at life in my 30s, I wouldn't have believed them, but here I am a first-generation graduate. Anything is possible. I am an educated Chicana. Thank you, God. Thank you to the people who have supported me on my journey and my family. Lastly, I would like to dedicate my degree to my father, my hero, who raised me alone. I love you, daddy.
Primary Category
Tags