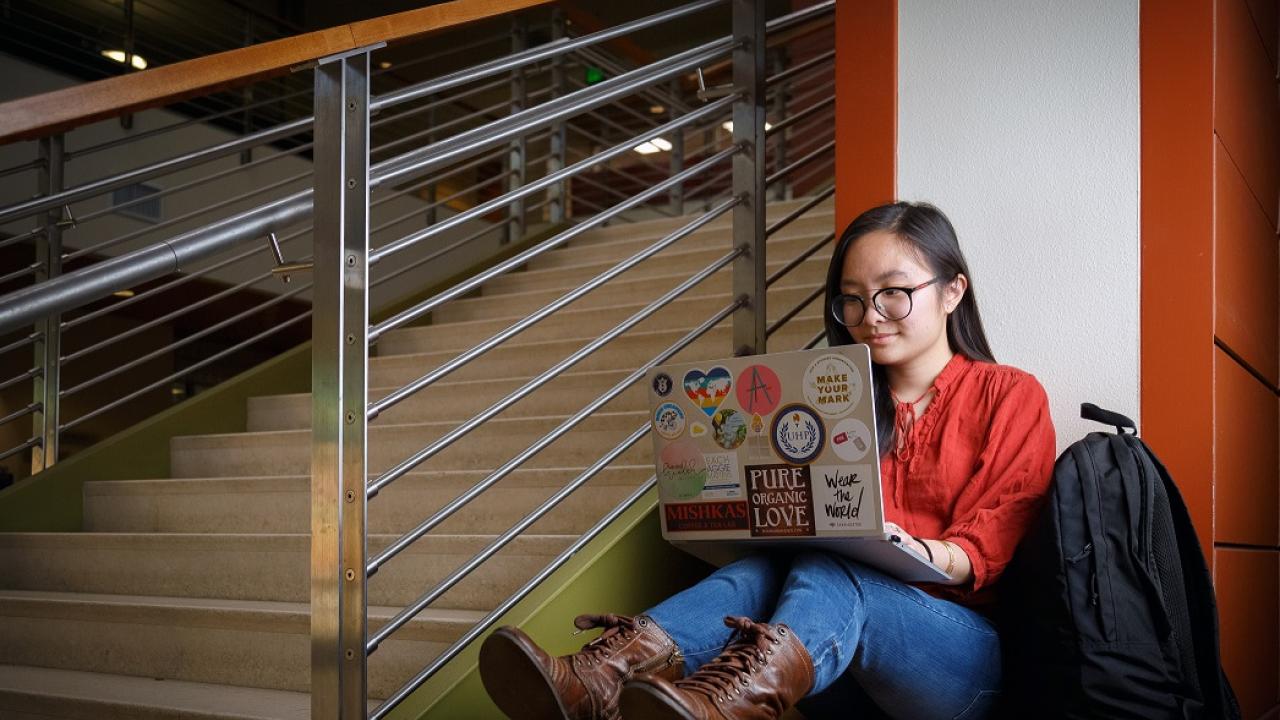 Jennifer La '19
Biochemistry and Molecular Biology
Tell us about your first generation background. Where did you grow up and what is your family history? What is unique about your story? 
My family is part of an ethnic minority group from Vietnam known as the Hoa people, ethnically Chinese people who fled to Vietnam to escape economic hardship and violence during the founding of the Republic of China. Following the Vietnam War, the Hoa people were targets of political violence so my family fled Vietnam by boat, enduring overcrowded and dangerous conditions that left them vulnerable to sickness and pirate attacks. My family was eventually able to settle in San Francisco, where I grew up. Growing up in the Sunnydale district of San Francisco, I witnessed crime and poverty, and almost everyone faced language, cultural, or financial barriers. After noticing these barriers within my community my whole life, I became determined to pursue experiences in college that would allow me to learn how to give back to my community.
How did you end up in college? What brought you to UC Davis? 
After my junior year of high school, I attended a 4-week residential summer camp at UC Davis called the California State Summer School for Mathematics and Science (COSMOS), where I got my first exposure to what college life was like. Living on my own for the first time was daunting, but my fears quickly faded as I learned to adapt and make friends. The environment at UC Davis was incredibly welcoming and motivating, so I knew that I had to come back for my undergraduate education. This decision to come to UC Davis was one of the most defining moments of my life as I met incredible people who taught me so much about the world, and I gained opportunities that shaped my values and passions.
What were you afraid of about college? 
When I was younger, I always doubted myself and felt I was never doing enough.I enrolled in ESL classes due to my accent; I felt I was a slow learner and that I had to work a lot harder than other people. I was a very different person in high school – I stuttered whenever I spoke up in class and I shied away from starting conversations with others.
As a result, in college I was afraid that I would fall behind and feel as lost as a small fish in a big pond.
Putting myself out of my comfort zone to make friends and join student organizations made all the difference, as I now consider myself a leader and an advocate. Finding a community of people who accepted me for who I was helped me gain the confidence to speak for myself and pursue my dreams. 
How your background helped you:
As the cultural broker of my family, I was often a translator for my parents at parent-teacher conferences and medical appointments. Lacking professionals who understood my parents, I quickly picked up on the value of cultural competency and diversity. As an aspiring pharmacist, I understand that when health care professionals are similar to their patients or are open to learning about the struggles of various communities, their relationships with patients are more grounded in compassion and trust. Since neither of my parents attended high school or college, figuring out how to navigate college and beyond has taught me to be resourceful and to seek help when I needed it. My personal experiences served as my motivation to succeed in college and be a mentor to others.
Have you been mentored by a faculty member/advisor on campus? Has someone on campus made an impact on you?
One of my biggest mentors is Dr. Camelia Hostinar, a professor that I've been fortunate to do research with. She gave me research projects that specifically matched my personal interests and goals and encouraged me to present posters at the Undergraduate Research Conference each year. Her support and belief in me inspired me to go above and beyond in my undergraduate career. I am currently working on my senior thesis related to socioeconomic factors to health, and with Dr. Hostinar's guidance I realized that I wish to incorporate research in my future career as well. 
Joanne Snapp, the director of Health Professions Advising, has also made an impact on me. Coming to Davis as a freshman, I did not know what it meant to be pre-health. Attending the quarterly pre-health workshops she led really kept me on track and gave me the knowledge and perspectives I needed to succeed and support others. The resources that I have gotten at UC Davis have made me a braver and stronger person than I was before.
The best thing about your college experience:
For the past three years, I have worked at the Willow Clinic, a student-run clinic that provides free medical and psychiatric services to the homeless population of Sacramento. Since we have an on-site dispensary, we are able to ensure that our patients, despite their financial and social barriers, receive the treatment they need to improve their health. Working in the leadership team in various organizations such as the Pre-Pharmacy Club helped me realize the value of collaboration.
As a future pharmacy student, I will seek opportunities that allow me to continually learn, share my story, and advocate for patients' rights.
My undergraduate education provided me the opportunity to encounter new environments, people, and knowledge. I can confidently say I developed skills to aid my community and engaged in experiences that made an impact on others.
What would you tell a first-year student? 
Take it easy your first year to figure out who you are and what your own interests are. There are so many opportunities available at UC Davis that it can be easy to feel overwhelmed, but by taking time to figure out the kind of person you are, you will grow the most from the experiences you later choose to engage in.
What are your future goals?
In the future, I wish to work as a psychiatric pharmacist. Passionate about the continually expanding scopes of practice of pharmacists, I wish to be a pharmacist to help bridge the gaps in mental health treatment through their roles in primary care.
Category
Tags