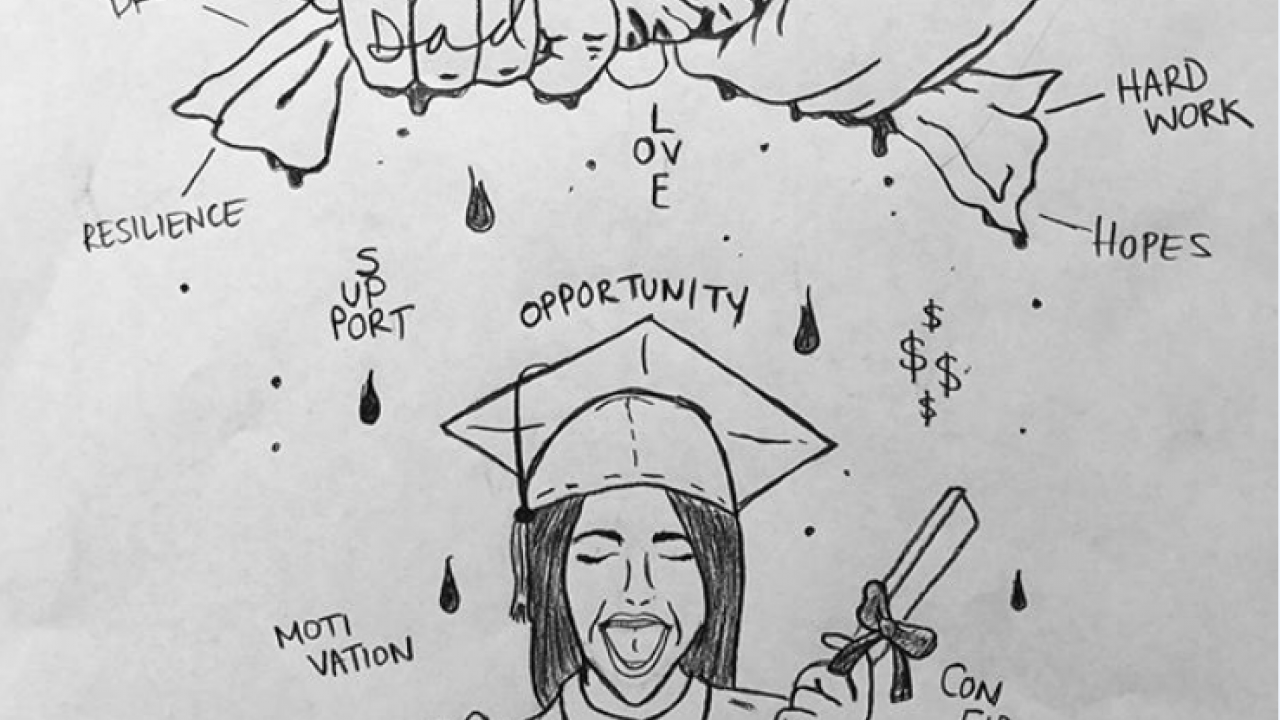 Jenny Zavala  '19
Chicana and Chicano Studies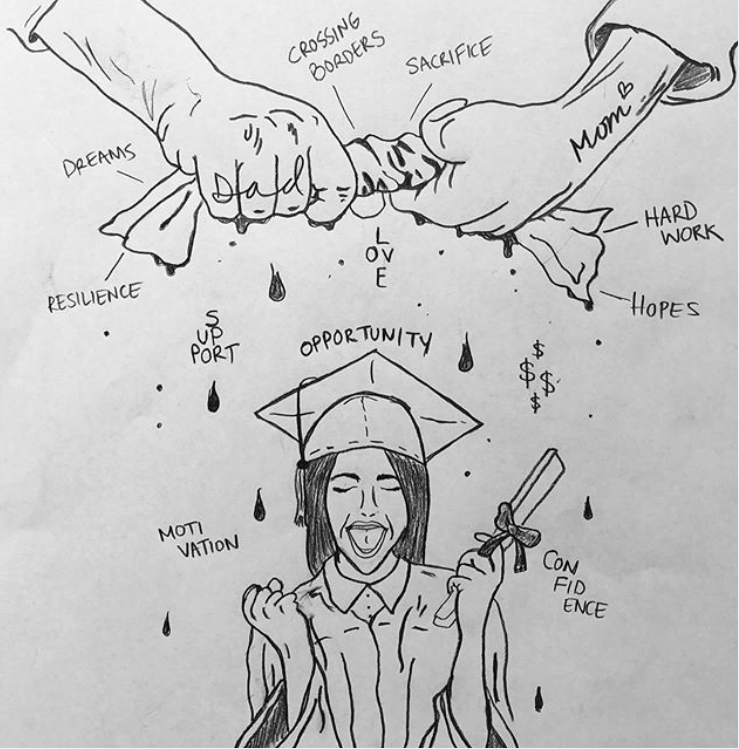 The two hands represent my parents, and the rag being twisted holds everything that represents my parents such as their hardships, sacrifices, and dreams. By twisting the rag, both hands "shower" me with love, support and most important of all, an opportunity. At the bottom is a representation of me in my graduation gown holding my diploma while I receive my parents loving gifts which all contribute to my growth of who I am today.
As a first generation student, I wanted to capture a literal representation of what your parents try to give you as you figure out the system of higher education all on your own. Your parents can't help you with your finals, but they can support you along the way through your tears, stress, fatigue, breakdowns, and everything else in between. I hope that through my piece like many of my other pieces, I can directly convey that message to others, especially the first generation community. 
Fun fact: The portion of the hands holding the rag was from an actual picture of my mom's hands that I used as a reference. She was squeezing out a damp rag she was using to wipe down the kitchen. I literally made her pose for 10 minutes as I took multiple pictures from different angles. P.S: I didn't let her finish cleaning the kitchen, she said she was too tired from posing. 
About the Artist: 
I am the first-born to two amazing individuals who immigrated from El Salvador back in the '90s to seek refuge from the civil war. And now I am the first in my family to graduate college.  
I never intended to go to college, it wasn't something Oakland kids did after high school. We either went to the local community college or worked. But I had mentors who believed in me and saw me as more than just another Latinx dropout statistic. It took a lot of convincing but I finally applied to 4 UC's. After receiving 3 UC rejection letters in a row, my last and final letter came in and I found out UC Davis had accepted me. I was filled with a new sense of direction and motivation.
Fast forward 5 years later today, I am proud to say I will be graduating with a major in Chicano Studies and minoring in Education. I hope in the future to work in retention for Latinx students at a community college and state colleges. My journey in Davis is everything to me. Not only does it prove I am a resilient Oakland native, but it's also a symbol of my growth.
Art has been my escape for years, and I genuinely enjoy every time an opportunity arises to express myself. I just go for it & create whatever inspires me. The First Gen contest was so much fun to play around with and create what I felt represented the true meaning of what it means to be the first to attend college in your family.
As a first generation student, I dedicate my graduation to my parent's struggles, dreams, and hardships. Gracias Ma y Pa. Todo lo que hago lo hago por ustedes, los amo! 
Category
Tags