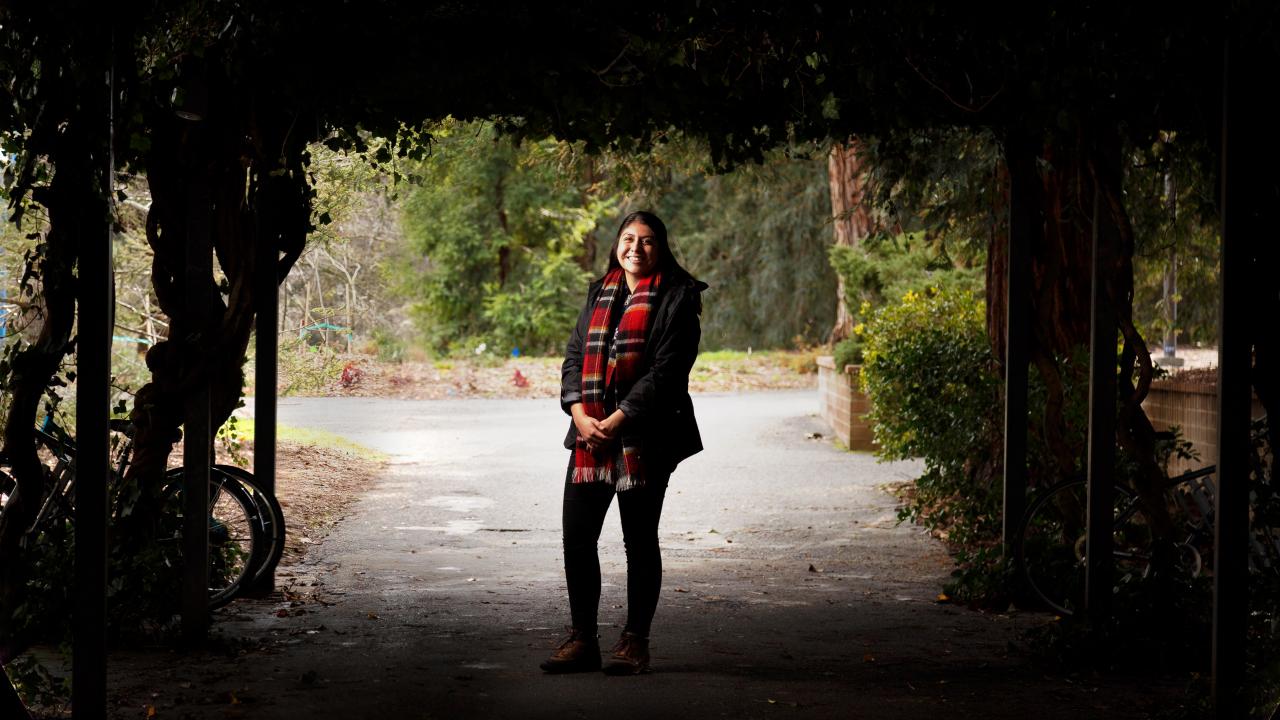 Lucero Morales '20
Biotechnology
From a young age, Lucero Morales' parents instilled in her the importance of a higher education. Seeing the spark for knowledge they'd set in her had caught fire, they fanned the flames and offered to support her financially while she went to college. Her high school was considered "low performing" and many of her friends were the first in their family to go to high school. Of her graduating class, she was one of five students to get into a UC and one of only two to get into UC Davis.
"I feel proud to represent my high school here and to serve as a role model for students back home". 
Lucero grew up in a rural part of Bakersfield in Central California and both of her parents were immigrant farmers, so agriculture was everywhere. Her interest for agriculture blossomed in high school when she got involved with Future Farmers of America.
"I chose UC Davis partly because it's an agriculture-focused school, but I also came here on Decision Day and fell in love with the campus." 
As a new freshman on campus Lucero didn't know anyone, but she found out that food is a great way to connect with new people. One of her first friends at UC Davis grew up in India and Lucero wanted to learn more about Indian cuisine and culture. She invited her friend to join her for Indian food and the two found themselves chatting about the similarities between Mexican and Indian cuisine. It was those late-night food breaks that helped seed their relationship.
As an student in the University Honors Program, Lucero was required to take electives that are outside the purview of her major to broaden her horizons. She chose Honors Drama from a laundry list of classes students can pick from. What she didn't know going into it  was that she'd pick up valuable communication and leadership skills that she would carry with her as the president of Food Recovery Network and co-president of the Biotechnology Club. 
That same year Lucero got involved in the Food Recovery Network, a campus club with chapters throughout the nation that collects food for those in need. Her journey began with student outreach: displaying fliers, tabling at the Memorial Union, posting on social media, and sending emails.
"My volunteer work with Food Recovery Network really opened my eyes to how much food is wasted every day, which is why I decided I want to research ways to keep food from spoiling". 
What would you tell a first-year student?
I believe succeeding in academics is extremely important but I think that forming a strong community of friends or students who share similar experiences or passions as you is just as important. Having a strong support network helps with academics as well because you have people you can get advice about classes from and advice about all aspects of college, such as moving into an apartment or finding an internship/job. I formed a strong support network with my roommates, friends in classes, and friends in FRN and they have helped me succeed in my academics. UC Davis has lots of academic support as well such as tutoring which I utilize extensively because I know that I am here to learn and this campus is here to help me achieve my goals.
Category
Tags