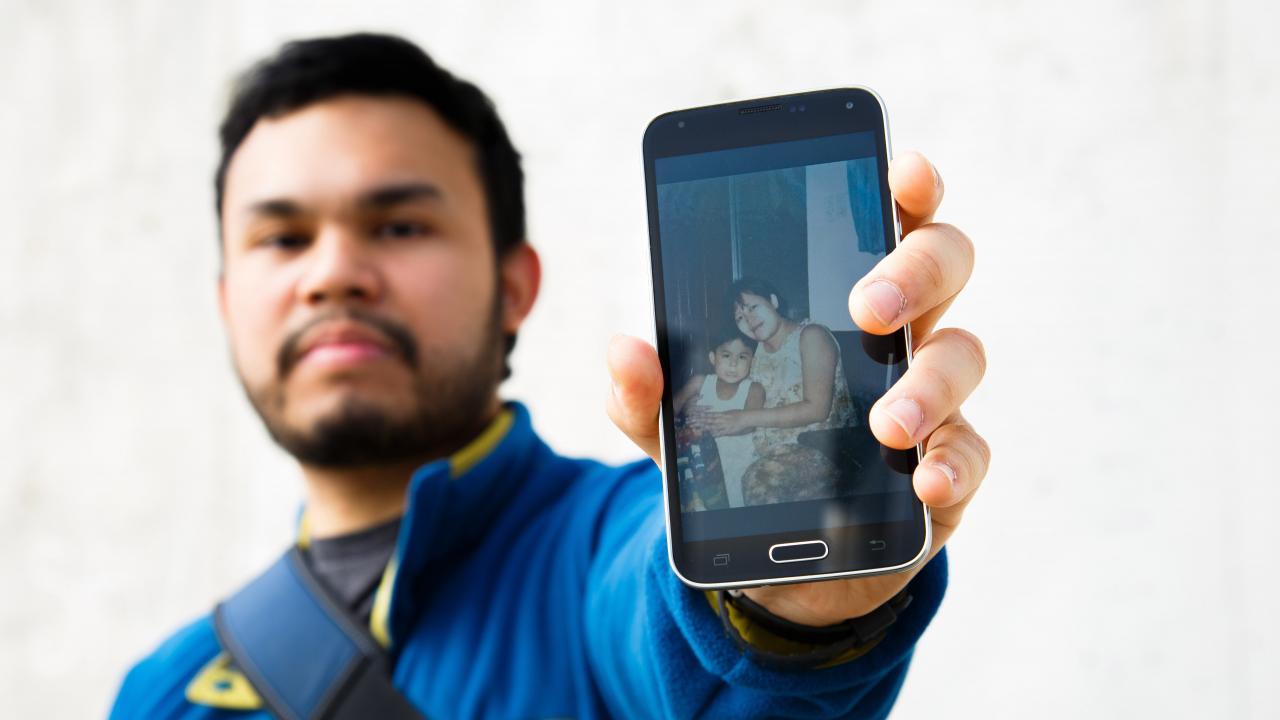 Miguel Paulo Flores '19
Science and Technology Studies
Tell us about your first generation background. Where did you grow up and what is your family history? What is unique about your story?
I was born and raised in Manila. I had the fondest memories playing on the streets with other children. In 2010, our family decided to migrate to Hawaii to escape poverty and the unstable economy of the Philippines. Though we were middle-class, our family struggled to thrive in the Philippines so we decided to move and seek a better life and finally reunite with family who had moved to Hawaii after the Philippine Martial Law in the 1980s. We lived with my aunt for several months while my mom bounced between different part-time jobs to support my brother and me. She was a single parent raising two kids; for a couple months she worked two jobs while I managed to get a tutoring job at a local middle school to provide some support for expenses and bills. When we finally found a place on our own, I was in my sophomore year in high school and the only thing that I could do at that time was to start looking for scholarships and colleges. I would get fee waivers for SAT and ACT prep classes as low-income student, and I took that opportunity to sign up for SAT and ACT testing as early as my sophomore year. It was the least I could do at that time.
I knew that if I got accepted into a good school, my mom would be proud of me. It was my way of repaying her for all the hard work she did for me and my brother.
Senior year came along, I'd applied to over 60 schools and got over $100,000 worth of scholarships. I got accepted into almost half of the schools I applied to and at that moment I knew exactly where my life was headed - success.
At my graduation, I dedicated my honor stole and medallions to my mother and reassured her that everything would be alright.
I graduated top 10% of my class and was recognized by the State of Hawaii Senate for my outstanding achievements as a First Generation Filipino American Student and was named as a Dell and Gromet Scholar.
How did you end up in college? What brought you to UC Davis?
I saw in my mother's eyes how much she endured while working late hours at her two jobs to support my brother and I. I would see her collapse on the couch after a long day at work and I couldn't help but think about college as a long term solution to helping my mom and brother.
Despite the heavy workload, I managed to have, at one point, three jobs at a time while balancing school, an internship and undergraduate research. The small income I earn from these jobs, went towards my expenses here at school and from time to time I would help my mom with some of the bills back home.
What were you afraid of about college?
Failing. At one point, I was up for dismissal. I was at the lowest "chain," I felt incompetent, I was depressed, homesick, and stressed out balancing my jobs and school. I was afraid of getting kicked out and when I hit rock bottom. To this day, I did not let my parents know. I isolated myself, hated myself for the failure that I was because I did not want to let my mom down. I pushed through the third quarter of my freshman year, pulled myself up, talked to an amazing counselor, and persevered to get out of Academic Probation and Dismissal.
How your background helped you:
I learned how to be independent, to fail and get back up again, and to care about myself too.
I learned the importance of organization and how to talk to people when you are dealing with problems. I learned how to appreciate my flaws.
I learned how to be kind and to lend a helping hand to those who are struggling in school or in life in general. I can now balance my school work and jobs while involving myself in different clubs and student organizations on campus. I learned how to have fun, to take a break, and to step away from the stressful environment of school.
Have you been mentored by a faculty member/advisor on campus? Has someone on campus made an impact on you?
I met Prof. Gerardo Con Diaz from a class I took back in Fall Quarter of 2016. He shares a similar experience that I had. Even though I struggle to acknowledge my own potential, he showed me what I am capable of. He told me that I have to stop comparing myself to others and that I am unique.
The best thing about your college experience:
Friends, friends, and more friends. There are over 30,000 students on campus and I just love it when I pass by a friend and have spontaneous lunch or coffee with them.
Also, take advantage of all the resources on campus, there are counselors if you ever feel alone or if you need someone to talk to especially if you are living far away from home. Lastly, failures, the best college experience is through trial and error - trust me, you are not the only one trying to figure out how to be a college student!
What would you tell a first-year student?
Do not be afraid to stand out, you are more capable than you think. Use your resources, utilize them, and do not be afraid to ask! You are not alone, talk to someone, do not isolate yourself. It is okay if you are not on top of your game, take your time and self-care is always important!
What are your future goals?
Graduate school and to make my mama proud! I want to support my mom and brother after I graduate and work as a consumer or product analyst for a big tech company. Once I save up enough money, I would like to go to grad school and eventually become a patent lawyer or a professor here at UC Davis!
Category
Tags