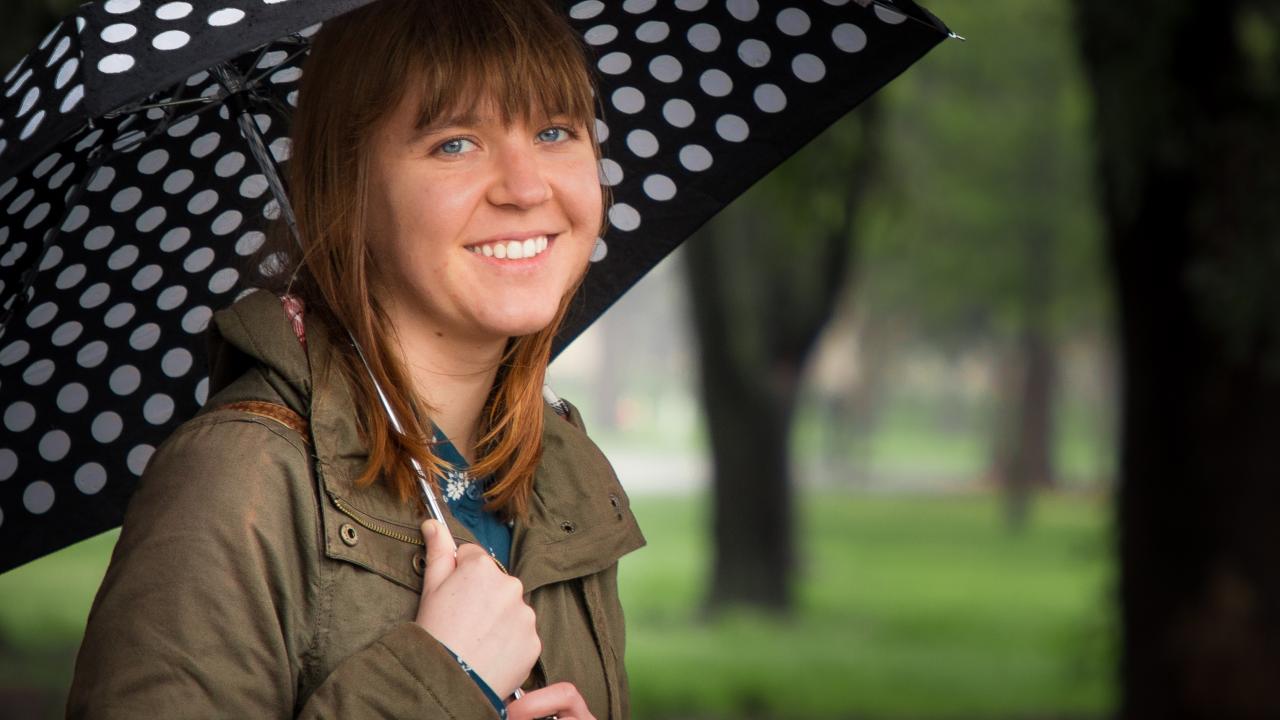 Samantha Dunn '20
Sociology 
Not many have the pleasure of being able to say they were raised in a barn! Yet, here I am. From around the age of 5 to 16, I lived in a refurbished barn on a small plot of farmland in southern California, packed in with my five siblings. We grew corn, peas, and other crops, which we harvested together as a family. My siblings and I would bond and play by sprinting through the tall fields of corn, loving the feel of the earth pounding against our bare feet and the burn of our lungs as we ran and laughed all the while.
Growing up in so isolated and poor an area was hard at times, but my family had a way of making it work. My father and mother always encouraged us to excel in school so we could go wherever we wanted in life and not be forced into one lifestyle like they had been.
When I told my parents I had actually gotten into UC Davis, they both cried in joy. It was the first time I had ever seen my father shed a tear, and my mother framed the acceptance email I received, she was so thrilled.
They had to work hard to support our large family, especially with my father not having had access to a high school diploma, but my siblings and I never felt neglected. They loved and cared for us as fully as they could. Their perseverance truly taught me the value of diligence, and not being limited by the cards life has dealt you.
What Motivated Me to Go to College:
Looking past my family's unrelenting encouragement, growing up in a poorer area also helped motivate me, as learning about and being exposed to the people there showed me that I wanted to work in an area that promoted access to education. While I had grown up poor, it was only through a high school internship working with impoverished youth that I got to see the full influence of poverty on my area. I worked with the county library to bring books to kids who couldn't afford to buy them and didn't have access to the library. We drove to relatively remote rural places, bringing donated books to distribute to kids. It was a perfect opportunity to share my love of reading.
Seeing so many children struggle to get the basic necessities for school really had an impact on me. Those experiences further motivated me to go to college, so I could develop programs that would help them and other kids who grew up in less affluent areas, like I did.
Have you been mentored by faculty on campus?
I would say Carolyn Thomas, the VP & Dean of Undergraduate Education, really helped connected me to campus. She was my professor in a freshman seminar, but she invited me onto the Student Advisory Board after the quarter ended. She's always been incredibly nice, and I feel like without her I never would have understood how to navigate throughout college as deeply as I do now. She also helped me decide on my major! She's definitely the first person working on campus to make UC Davis feel like a home to me.
The Best Thing About My College Experience:
My favorite part of college so far has been deciding on the major I genuinely wanted. I came into college undeclared, which made the entry into Davis scary and uncertain for me at first. With time, however, I figured out exactly what my interests were, and realized that Sociology made perfect sense for me. Ever since my internship, I had been quietly seeking to work with similar people. This major guaranteed just that! I genuinely feel excited to go to class now, knowing that I'll be learning about something I'm truly passionate about. Back in high school I never thought I'd really make it into UC Davis- and if I did I would be forced to major in some big field of science, if I wanted to be respected. Remembering that doubt, and knowing that I persisted, fuels me everyday towards my dream degree.
What would you tell a first year student?
Don't stress so much about tests and good grades. If you work hard and inspire others to do so, the important people around you can tell. While it's great to be a successful student, if you're a good person with full-hearted intentions, amazing opportunities will come your way too.
Category
Tags