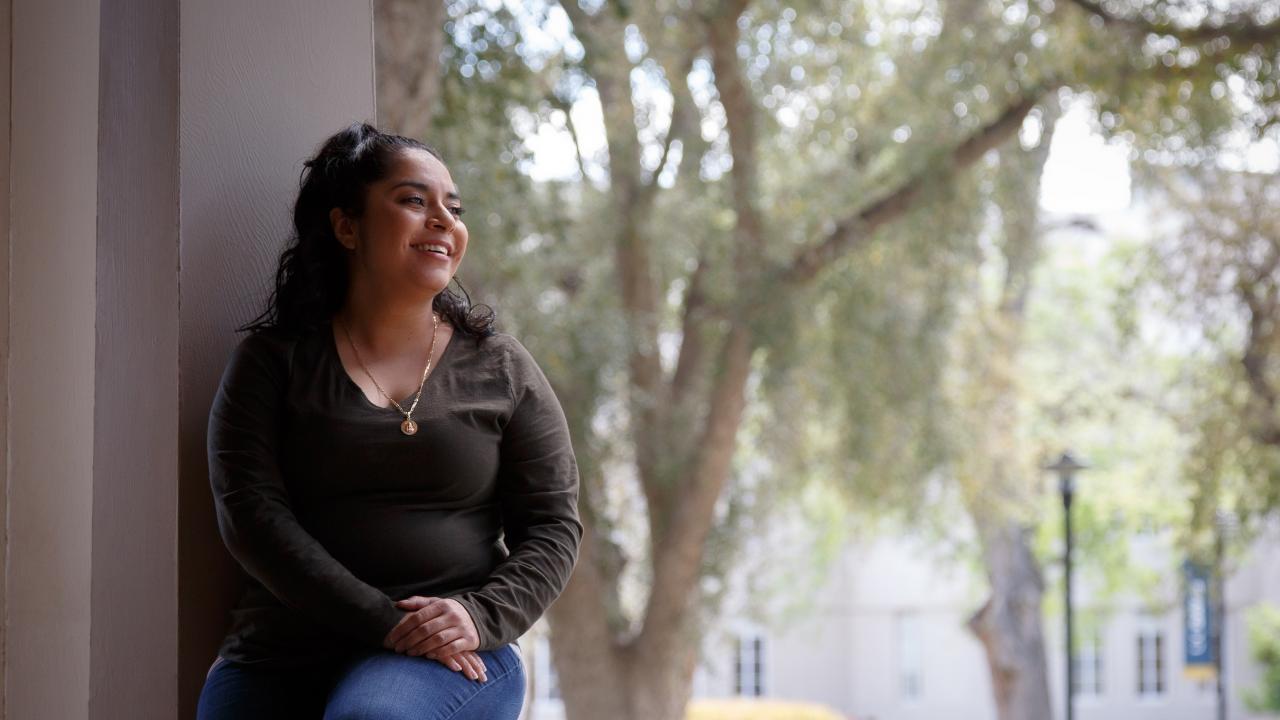 Stefany Guzman '19
Cognitive Science
Tell us about your first generation background. Where did you grow up and what is your family history? Share something unique about your story.
I am born and raised in Sacramento, CA. My parents are both immigrants who came to the United States, my father from Mexico and my mother from Guatemala, in search of a better future for themselves and their family. They often tell me that if they could go back in time and change one thing, they would have pursued their education so they could work jobs that require more brain power and less physical labor.
I personally believe that I do not thank them enough for the sacrifices they have made in order for me to live a better life, and hope that I can one day thank them for their sacrifices by following my dreams and pursuing my academic and career goals.
Being the oldest of three children, I felt that I needed to set an example for my younger siblings, a brother, and a sister. As the oldest, growing up I didn't have an older sibling to help me with school; I had to stay after school and seek help from my teachers and peers.  Regardless, I am proud to be able to provide my siblings with the type of guidance I missed out on.
How did you end up in college? What brought you to UC Davis?
In high school, I joined AVID, a college prep class that was offered at my school, and it was the first time, I had ever really thought about going to college. My teachers would often tell me, that I was a very hard-working student and I could do anything I wanted to do in life, I just had to keep up my work ethic. I applied to Davis my senior year, as it was close to my home, but I was not admitted the first time around... but I was not going to give up. I started taking classes at a community college, and it was there that I learned more about research and my love for science.
Shortly after beginning community college, my brother was diagnosed with leukemia, an event that really affected me as a student. It was then that I truly realized that I wanted to pursue a career in medicine. While in community college that I learned that UC Davis is a top research university, and when I attend Discover UC Davis, I fell in love with the campus. That day I learned about the affiliation that the school has with the hospital, the student runs clinics, and I realized that I really wanted to be an Aggie. After working hard and waking the classes needed to transfer, I was accepted the second time around.
Were you afraid about going college, or when you first arrived?
When I first got the email that I was accepted, I was ecstatic, I cried, definitely tears of joy. As the first day of school approached, I was nervous but still really excited. It wasn't until after the first 3 weeks or so that I felt this overwhelming sense of disappointment. I felt like I didn't belong, that I couldn't keep up with my classes, I wasn't myself and my biggest fear was that I would not be able to shake it all off and carry on, that I wouldn't graduate because I felt alone and didn't really know where to turn for help.
The Dean advisor then suggested that I seek help and speak with someone I felt could help me.
After the meeting, I headed to the Transfer and Reentry Center. It was around week 8 and I had only been to the center once before but thought it was time for me to return. There I was able to speak with an advisor, and they connected me with El Centro, a place where Chicanx/Latinx students can meet and interact. It was there when I was able to find so many other resources, and I started attending more workshops offered by the Office of Educational Opportunity and Enrichment Services  and I found other resources that I could use: The Undergraduate Research Center, Health Related Internships, and more.
I slowly started to feel like I belonged and started making new friends and really embracing the University. That fear of not belonging and not reaching my goals was something I no longer felt nor feel today.
How your background helped you?
The saying goes something along the lines of "you don't know how strong you are until it's the only choice you have." Cliché? Maybe! But I feel that I work hard not because I want to, but because as a first-generation student, it is difficult to ask my parents for advice on what I should do academically. They, unfortunately, do not know what to say and they tell me "you are smart you will figure it out," "you'll be fine," but that isn't the answer to my questions.
Seeking resources has been the only way I know how to thrive and asking for help has been a critical part of my success as a student. I believe that being faced with the challenge of feeling lost and alone, as I try to navigate college, has in return made me a stronger student. I have learned that through failure is how we learn how to succeed. My family is my inspiration every day, and since I am the first to walk this path, I hope to pave the way for others in my family.
Have you been mentored by a faculty member/advisor on campus? Has someone on campus made an impact on you?
But my biggest mentor would have to be Victor Garcia at the Transfer Center, he was the one who suggested I come to the Transfer Center more often, connect with El Centro more often, I attend workshops, and thus far every workshop I have attended has helped me tremendously. He also suggested that I seek career counseling when I had concerns about my life post-grad, and that has been the best decision I have made here at UCD. I was introduced to the Transfer Center at Orientation, and Victor just happened to be the person that was always there when I went to the center.
The best thing about your college experience so far?
Finally feeling like I belong. I go to the quad when there are events, I joined the Nursing Club, and have been able to meet so many new people. As an extrovert, being around people makes me super happy and by being able to find people who are similar to me and have commonalities, helps me feel like I am moving in the right direction.
What would you tell a new UC Davis student?
As a transfer student: Make a friend! Just ask the person next to you if you can swap info just in case you have questions and want to study. Do that for every class you take. Ask every question you want to ask, people on campus are always willing to help. Believe in yourself! If you feel stuck, head over to the Transfer Center, I regret not going sooner.
What are your future goals?
I really want to pursue a Master's in Nursing after graduation. I really love research and I hope to apply to the NP program down the road. I also really want to participate in a student-run clinic before graduating, and hope to pave the way for others that share my struggles and triumphs.
Category
Tags