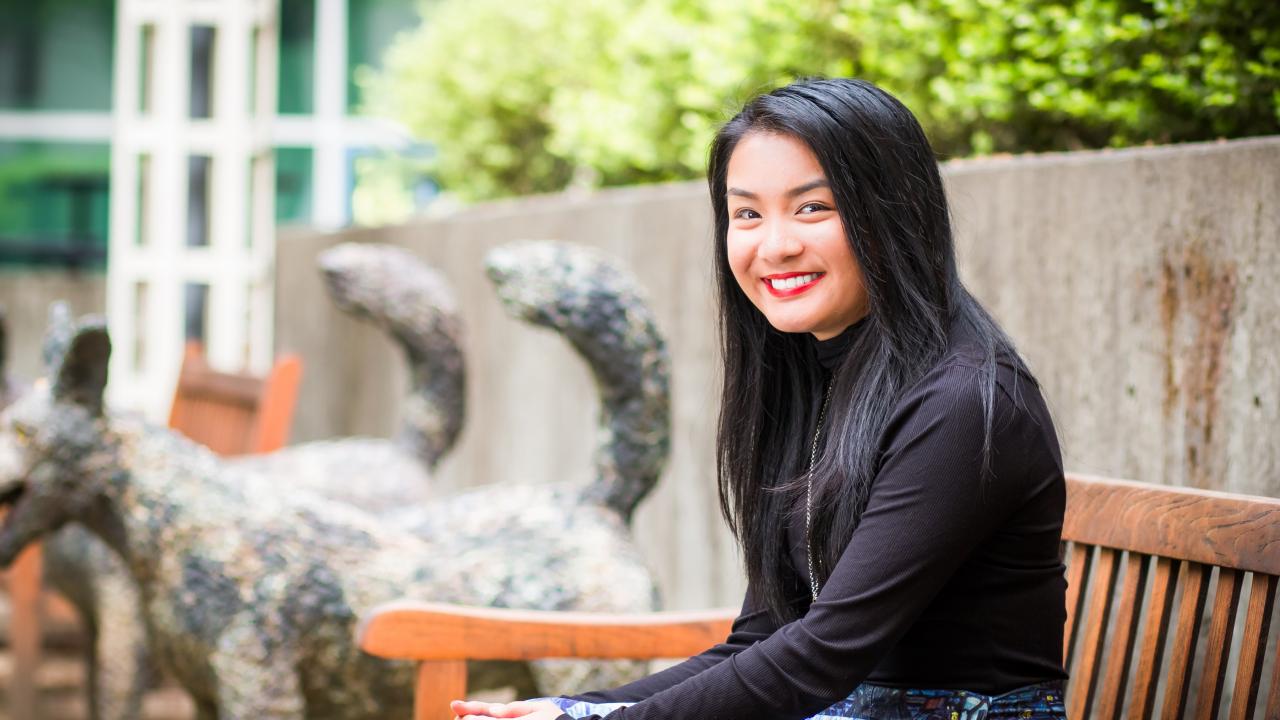 Susanna Zheng '19
Psychology 
I was born and raised in San Francisco. Both of my parents are immigrants and have an 8th grade education. After the 8th grade, they had to get out and work to support their families. They don't speak any English, so I learned to translate for them at a very young age, from phone bills to conversations with our neighbors. Learning two languages has allowed me to become the bridge that connects two worlds together.

How did you end up in college? What brought you to UC Davis?
I knew I wanted to go to college when I was in the 3rd grade. At that time, I thought I wanted to become a doctor, so by the time I was in the 3rd grade, I figured out and planned out all the steps and requirements I needed in order to get into medical school and become a doctor. However, during my junior year of high school, I had the opportunity to work in Allan Basbaum's lab at UCSF to conduct pain research, present at a conference, and shadow several doctors.
It was then that I realized I wasn't interested in medicine, but research. Research was so much fun that it felt like magic, even during the challenging moments. It was then that I found out it was possible for people to get a PhD and that I wanted one, something I never knew even existed, especially coming from parents that only had an 8th grade education.
I came to UC Davis as a transfer student on the Regents Scholarship and became part of the University Honors Program. I came here because I was drawn by the amazing research opportunities that are available here at UC Davis. Research is everywhere and I think it's so cool that students have the opportunity to take part in creating knowledge.
 
What were you afraid of about college?
I was afraid I wouldn't be good enough, and honestly, I still occasionally feel like I'm not good enough. It's a process I'm trying to work on. But I'm very lucky to be able to surround myself with a positive group of people that believe in me. It means everything and helps a lot to have people in my life that truly believe in me, support me, and take my goals seriously.
 
How my background helped me:
Coming from a low income background with hard-working parents that don't speak English has taught me to become independent, persistent, and to work hard at a very young age because I know that things don't just magically manifest without hard work. In addition, it has created the desire in me to learn every chance I get because I know how powerful and transcendent knowledge is.
 
Have you been mentored by a faculty member/advisor on campus? Has someone on campus made an impact on you?
Carolyn Thomas and Karen Bales are some of my mentors. They are absolutely phenomenal and UC Davis is lucky to have people like them. They have supported me and helped me flourish academically and personally in their own unique ways.
 
The best thing about my college experience:
Getting involved in research and becoming a rape-crisis counselor have been some of the most rewarding things that have happened. These experiences have challenged me in different ways beyond the classroom. Learning should always extend beyond the classroom—that's when your life changes.
 
What would you tell a first year student?
Find out about your resources! If you are a first generation college student from a low income background, it can be scary to not have a safety net to fall back on—both financially and academically. However, there are a lot of great resources and great people here at UC Davis willing to help you. It is your responsibility to seek out those resources and not be afraid to ask for help to build a support network. If it is your first quarter as a transfer student, know that you belong here and remember that your unique experience adds onto the greatness of this campus.
Category
Tags